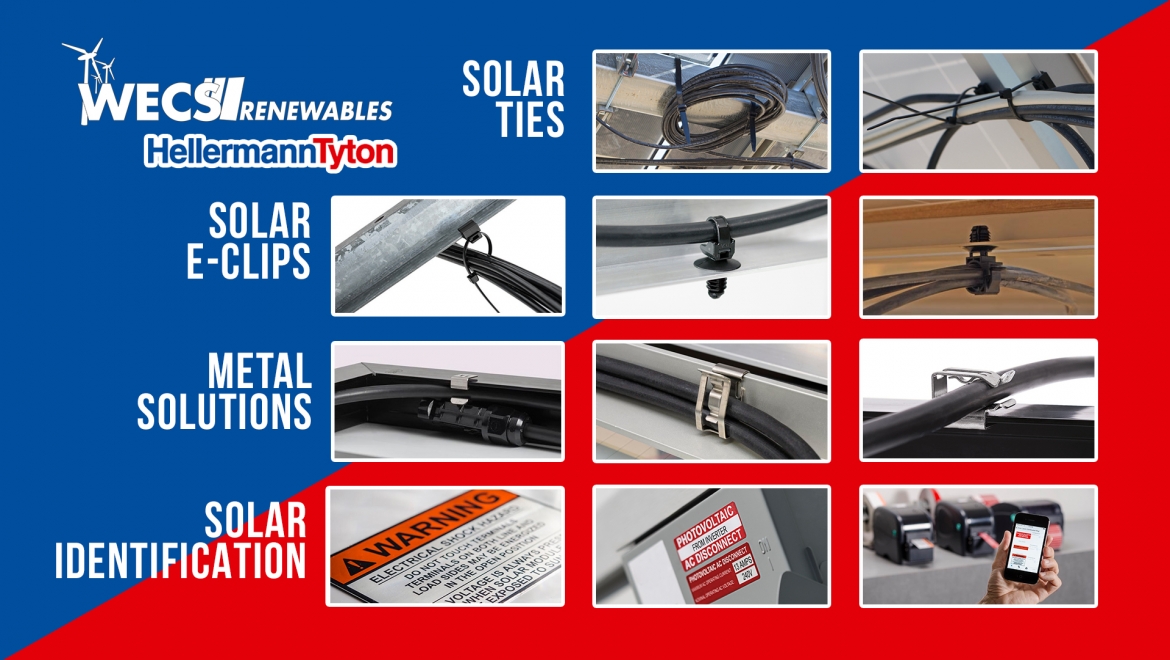 As long as wires and cables carry the world's solar energy, HellermannTyton continues to watch over them. We lead the solar industry in solutions that connect, fasten, route, protect and identify – bringing unmatched safety, reliability and longevity to PV systems.
Solar Ties
Cable ties specially formulated to resist heat, cold, extended UV exposure and chemicals. All our nylon Solar Ties are made of UV stabilized material. Available enhancements include impact modified and heat stabilized materials, PA11, PA 12 and POMUV.

Solar Edge Clip
Solar Tie with Fir Tree Mount
Locking Clip with FIr Tree
Our reinforced edge clips and fir tree mounts with cable ties as well as our Module Omega Clip are made from UV stabilized, impact resistant nylon. More than an improvement over basic UV rated parts, they are designed to outperform all other similar fasteners on the market.
Heavy Duty Metal Edge Clip
Low Profile 90 Degree Metal Edge Clip
Low Profile Metal Edge Clip
HellermannTyton knows the details that must go into a metal solar fastener. Our metal edge clips have coined edges to protect wire jackets, are the industry's easiest to insert and deliver best-in-class extraction force. Check out our low profile metal edge clips for better results in tight spaces and narrow edges.

Metal Solar Placard
NEC 2017 Printable Solar Labels
TT130SMC Compact Thermal Transfer Printer
Pass inspection and make safety a priority around your PV systems. HellermannTyon's labels and placards are so much better than others on the market, they carry the industry's only 7- and 25-year warranties. Just look for the 
 logo on our product listings and on the products themselves.