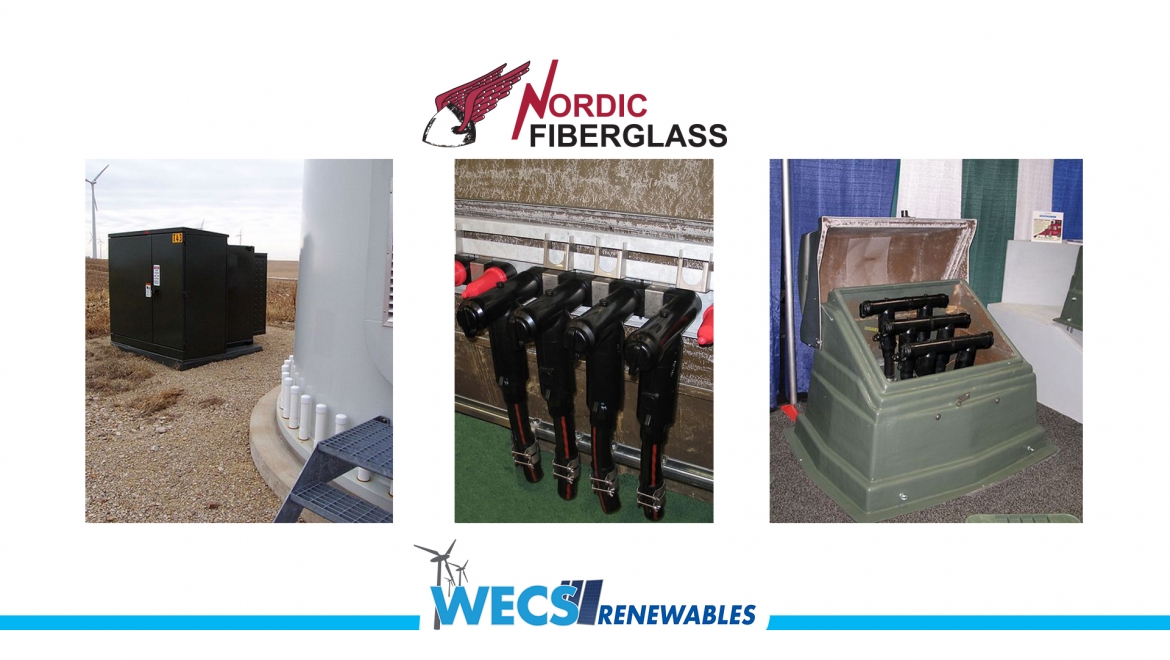 PARTNERSHIP - WECS AND NORDIC FIBERGLASS
Box Pad Solutions
NORDIC FIBERGLASS has been a key partner with WECS since the 1990's as we together provide equipment pads into the Renewable Energy industry segment of electrical power delivery collection systems.  Lightweight and very strong fiberglass structure designs for padmount transformers, sectionalizing switchgear, substation apparatus and more to allow for quick construction of underground cable delivery including the special "Chute" design pioneered by Nordic to meet the need to protect LV cable entry into the turbine foundation pier adjacent with a curved tower flange.  
Cabinet Solutions
Nordic maintains a large variety of Cable Junction Box designs to implement the flexibility required of the modern Wind and Solar farm MV Cable design. Most common is the large easy-opening cabinet with factory inserted junction bars from 2-pole to 5-pole serving up to 35kV cable collections.  Each can be supported underground with a storage sleeve. Each cabinet is part of the "daisy chain" solution from the towers to the substation.  Both the Junction box and the sleeve can be further tailored to specific customer needs and accessories including cable holding-support, cross-bond connections, cable fault indicators, special grounding, communications and whatever your design or imagination might bring forth at this point of the Balance of Plant.

These cabinets can also be used for non MV applications and storage dependent on your needs.
 
MORE GREAT PRODUCTS FROM NORDIC FIBERGLASS
2,3,4,5 pt. 35kV 600/900A Cabinet
Splice
Cabinets
Cross Bonding Enclosures