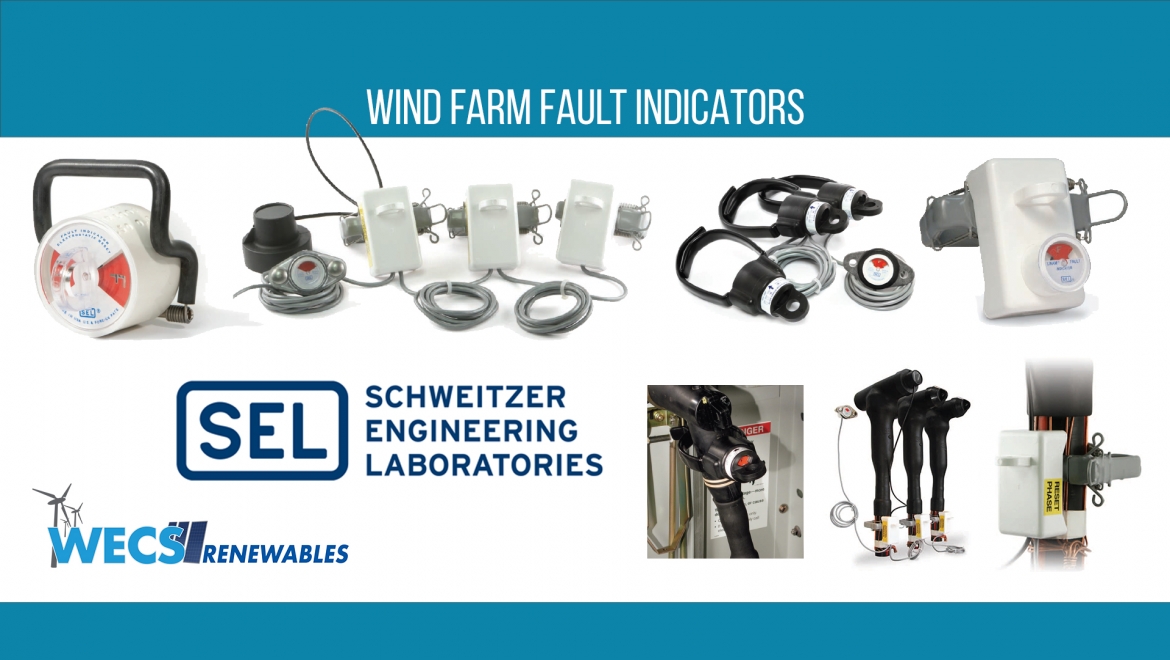 Wind Farm Fault Indicators
Quickly determine fault location and restore operations
in wind farm collector systems.
Line-powered operation for longer life and limited maintenance (no batteries required)

Current trip value up to 1500 A with delayed trip response time

Remote display options that allow quick determination of indicator status without the need to open medium-voltage compartments

Easy installation on separable connector components with capacitive test points

For installation in transformers, switches, and junction boxes

Units available that work with cold-shrink silicone medium- voltage terminations

Auxiliary contact output option for connection to SCADA for remote monitoring


 
Wind turbine outputs are fed through a transformer and distributed overhead or underground to a collector substation. The voltage will then be stepped up by the collector substation transformer to the utility transmission voltage. A single fault can disable from one to an entire line of turbines.
SEL fault indicators help operations personnel quickly deter- mine the location of the fault, isolate the faulted section, and restore the balance of the wind farm.
High-voltage ac electric field powers the ERL.
ERL automatically resets upon restoration of system voltage.
Inrush restraint feature prevents false tripping during recloser operations.
Reflective red target (the largest display in the industry) is easy to spot, both at night and during the day.
Zero maintenance: there is no battery to replace or monitor.
TEST POINT RESET (SHOWN WITH REMOTE DISPLAY)
Most economical solution for underground applications.
Powered from voltage present at T-body test point.
Easy to install on most brands of 600 A class elbows with capacitive test points.
Automatically resets upon restoration of system voltage.
Works independently of load current.
Ideal for pad-mounted transformer and switchgear applications.
Features remote display versions that eliminate the need to open an enclosure cabinet to determine indicator's status.
Allows access to the test point with simple removal of the fault indicator.
Compatible with SCADA through the auxiliary contact option.
Prevents false tripping due to adjacent phase effects with junction shield option.
THREE-PHASE VOLTAGE RESET DEVICE
No batteries required.
Voltage powered from BIP.
No T-body capacitive test point required.
Automatic reset after BIP voltage restoration.
Operation is independent of load current.
Up to 1500 A trip value (higher on request).
Several remote display options available.
Auxiliary contact option for SCADA compatibility.
Automatic reset upon restoration of load current.
Closed-core design provides adjacent phase immunity.
Available for single- and three-phase applications.
Choose from BEACON™ LED, target, and combination displays, depending on your application and operating practices.
Ideal for installation in pad-mounted equipment without elbow test points; install the fault indicator outside of the influence of the ground return path of the cable's concentric neutral.
Installation on low-voltage secondary lines is an ideal fault-finding solution in industrial environments.
Choose the auxiliary contact option for SCADA compatibility.
Fault-powered current reset models also available for low-load current applications. Please consult factory.